BAMBOO MUSICAL INSTRUMENTS OF T'BOLI IN SOUTH COTABATO
ARA JANELLE FORONDA-SUGUIPIT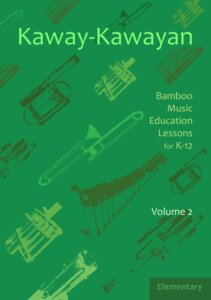 ETHNOGRAPHY
OBJECTIVES
CONTENT
LEARNING RESOURCES
PROCEDURE
REFLECTION
ETHNOGRAPHY
Excerpt from the BMI Ethnography of T'boli of Lake Sebu, South Cotabato
"The Bamboo Musical Instruments of the T'boli of Lake Sebu" By Juliet R. Bien
This ethnography is about the bamboo instruments of the T'boli of Lake Sebu. The name "T'boli" is a combination of tau, meaning "people," and bilil or "hill" or "slope", thus meaning "people living in the hills." The other terms that refer to the T'boli are Tboli, Tiboli, and Tagabili. They are an indigenous people living in the southern part of Mindanao, particularly in the municipalities of T'boli Surallah, Lake Sebu, and Polomolok in the province of South Cotabato and in Maasim, Kiamba, and Maitum in Sarangani. The municipality of Lake Sebu has 19 barangays, and the T'bolis live with the Ubos, the Manobos, and the Tasadays.
Lake Sebu as the T'boli's cultural heartland refers to two geographical areas: the municipality, and the lake within. Both are located in the Allah Valley, bounded on the north by the municipality of Surallah, in the southwest by the municipalities of Maitum and Kiamba, on the east by the municipality of T'boli and on the west by the municipality of Palembang in the province of Sultan Kudarat.
Musical instruments among the T'boli are classified as male and female. Megel/ lembang are male and lemnoy/lemnek are female. Male instruments are loud and played in public while female instruments are soft and are played in private. Citing Manolete Mora, an ethnomusicologist whose expertise is T'boli music, Jimenez says that these categorizations are very fluid as it "does not directly and exclusively determine the social situations in which the instruments are played. Rather, it identifies instruments within a general orientation and this type of categorization is not immutable." Among the bamboo instruments discussed in this documentation, the sacred drum t'nonggong is male and the rest are female.
The bamboo instruments featured in this ethnography are played for personal and community entertainment. Music-making is usually conducted at home for domestic enjoyment, to rest after a day's work. Community celebrations such as weddings and settlements of conflict among the T'boli also require music performance and dancing. Music festivals also provide occasions for a big gathering of musicians in the community. The Halabon festival which occurs every November is an example of a big festival participated in by the musicians of the community. The cultural masters and instrument- makers interviewed for this research are the resource persons who teach the younger members of their community. Regular visitors, tourists, students, and music enthusiasts are the audiences who avail themselves of the traditional knowledge shared by the masters and instrument-makers.
The size of Philippine indigenous musical instruments mentioned in this research are not standardized. The instruments' measurements are written in approximate units of lengths and diameters because they are handcrafted individually. The musical instruments vary in sizes because of the materials used, that are readily available in their environment.
The bamboo musical instruments of the T'boli are following:
Instrument

Method of Sound Production

Melodic Range

Role in the Ensemble

Function in Ritual or Social/ Cultural Activity

Kesal (slit drum, idiophone)

laid horizontally, beaten with two wooden sticks

A3

Individually played

Accompanies t'nonggong

Personal entertainment

Festivals

Community celebrations

Kumbing (jaw's harp, idiophone)

plucked

Kumbing1 C3-F#3

Kumbing 2 C#3-A3

individually played

Personal entertainment

Festivals

Community celebrations

Klintang sokong, (idiophone)

Beaten with sticks on the

open-ended upper tube

A2-B2

Played by 2

Plays with the rest of the instruments in the klin- tang sokong ensemble

Personal entertainment

Festivals

Community celebrations

Sloli (chip on

ledge flute,

aerophone)

blown

Sloli 1: A3-D5

Sloli 2: C#3-B5

individually played

Personal entertainment

Festivals

Community celebrations

Few onuk (flute imitating bird sounds, aerophone)

blown

A7#-B7

individually played

Personal entertainment

Festivals

Community celebrations

Sludoy (5-stringed

tube zither,

cordophone)

plucked

D3-A3

Individually played

Personal entertainment

Festivals

Community celebrations
Instrument

Method of Sound Production

Melodic Range

Role in the Ensemble

Function in Ritual or Social/ Cultural Activity

Dwegey (one-stringed spike fiddle, cordophone)

bowed

D4-G4

Individually played

Personal entertainment

Festivals

Community celebrations

T'nonggong (double- headed cylindrical drum, mem- branophone)

Beaten with two sticks

F3#

Individually played

Personal entertainment

Festivals

Community celebrations
OBJECTIVES
CONTENT
LEARNING RESOURCES
PROCEDURE
REFLECTION