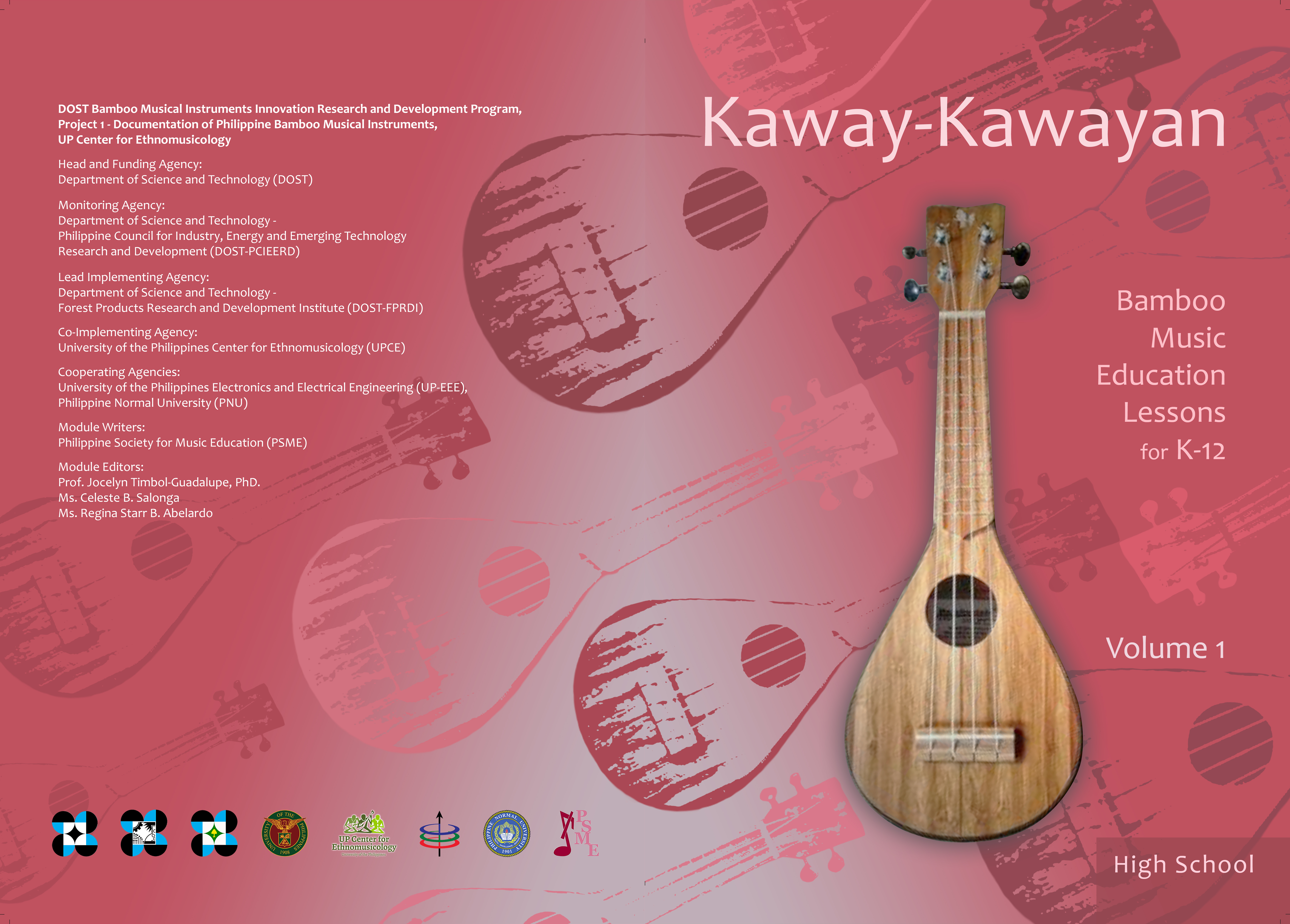 ETHNOGRAPHY
OBJECTIVES
CONTENT
LEARNING RESOURCES
PROCEDURE
REFLECTION
ETHNOGRAPHY
Excerpt from the BMI Ethnography of Cebu's Bamboo Ukulele
"The Bamboo Ukuleles of Cebu: A Trailblaze" By Yves P. Cuenza
THE UKULELE BAMBOO INSTRUMENTS
There are different factors as to why a lot of people (both musicians and non- musicians) tend to get attached to playing the ukulele. Mr. Brian Brusas of the Huni group asserts that the advantages of the ukulele instrument include its being small and handy. Moreover, the laid-back perception that it gives does not intimidate or give pressure to the musical ability of the person playing it.
The Bamboo Musical Instruments (BMI) Description Table below illustrates the
differences of each ukulele:
Instrument

Method of Sound Production
Size (scale length)
Number of frets

Tuning

Role in the Ensemble
ukulele
sopranino
28 cm
10
d1 g1 b1 e2
It can be used as a solo instru- ment, for accompani- ment, and for ensemble music mak- ing.
soprano
35 cm.
12-15
g1 c1 e1 a1
concert
Ukulele is a
38.5 cm
15-20
g1 c1 e1 a1
tenor
43 cm.
15-20
g1 c1 e1 a1
lute instrument
that is plucked
baritone
and strummed
51.5 cm
18-19
d g b e 1
The Huni group produces five types of ukuleles. The soprano, concert, and tenor are the most commonly used ukuleles which are tuned on the same key but gives give different over-all timbres. The difference is usually seen on the body size which is proportionate to the sound it gives off – the bigger the size, the deeper and fuller the ukulele would sound. The baritone is the largest among the ukuleles and it has the same tuning with the upper four strings of the guitar. The smallest is the sopranino and has the same tuning with the baritone but is set one octave higher. The price of every bamboo ukulele ranges from P5,000 to as much as P10,000, depending on personalized requests from the buyer
The shop has been producing handmade bamboo ukuleles. The most preferred species as raw material is locally known as bontong. If a customer wishes to get a bamboo ukulele, they must know the advantages and disadvantages of having one. Mr. Brusas and his team are quite upfront and honest in presenting those terms. Probably the only disadvantage about the sound is that the bamboo material does not necessarily produce the brightest timbre compared to the more traditional materials like mahogany, mango and langka woods. On the other hand, one of the strongest feedback that the bamboo material has been getting comes from foreigners, who say that the bamboo ukulele is more adaptable to climate and seasonal changes wherever the instrument is taken.
OBJECTIVES
CONTENT
LEARNING RESOURCES
PROCEDURE
REFLECTION